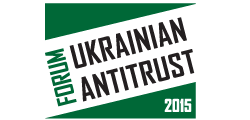 Oleksandr Fefelov, Head of Antitrust and Competition Practice, attorney at Ilyashev & Partners Law Firm, moderated the antitrust compliance session at the Ukrainian Antitrust Forum held in Kyiv on May 19. The event was organized by Yurydychna Praktyka Publishing House in partnership with the NGO "Competition Development Foundation".
The session highlighted effectiveness of the compliance programs, role of outside legal advisors in developing and implementing the antitrust compliance programs, risk areas for the company, compliance programs implementation algorithms, peculiarities of legal regulation and practical application of recommendations as a means of preventing violations of competition law.
The speakers at the session were the representatives of the AMCU, heads of legal departments of Henkel Ukraine Group Companies and LG Electronics Ukraine, external legal advisors – partners of law firms.
Summing up the session, Oleksandr Fefelov noted that a business entity may undergo financial and reputational risks not only because of the conscious disregard of the fair competition rules, but also because of lack of awareness of the company personnel. Therefore, the companies are recommended to implement the antimonopoly compliance programs – the system of internal control over compliance with the rules of fair competition – to minimize the risk of sanctions by the national regulators.