News date: 12 February 2018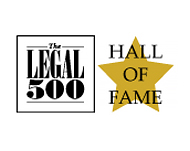 Mikhail Ilyashev, Managing Partner of Ilyashev & Partners Law Firm, and Senior Partner Roman Marchenko, have been honorably inducted into The Legal 500 Hall of Fame as the leading lawyers in the field of dispute resolution in Ukraine. There are only three Ukrainian lawyers added to the Hall of Fame in dispute resolution, two of which are the partners of Ilyashev & Partners.
The Legal 500 Hall of Fame highlights the law firms' partners who who have received constant praise by their clients for continued excellence and who have been named "elite leading lawyers" for seven consecutive years. In general, in seven practice areas, annually covered by The Legal 500 in Ukraine, only 26 partners across the entire state were selected for this honor.
"We are thrilled to receive such a prestigious international recognition of our work, – said Mikhail Ilyashev. – It is not only a recognition of our with Roman Marchenko personal merits, but also an acknowledgment of the leadership position of Ilyashev & Partners in the legal services market. This achievement is a hard work of a talented team. Together we do everything possible to ensure that our clients receive the high-quality legal services".
For many years in a row Mikhail Ilyashev and Roman Marchenko top the dispute resolution ratings in Ukraine. Partners of Ilyashev & Partners take the lead in the lists of the best litigators, compiled by the Ukrainian annual researches "50 Leading Law Firms of Ukraine", "Ukrainian Law Firms. A Handbook for Foreign Clients", "Client's Сhoice" and "Top-100 Best Lawyers of Ukraine". Mikhail Ilyashev is a two-time winner of the Legal Awards in nomination " Best Litigation Lawyer" (2012 and 2017). Roman Marchenko is the winner of Legal Awards as " Best Lawyer in Arbitration" and "Best Litigation Lawyer" (2014 and 2016).
Over the course of many years The Legal 500 – EMEA, Chambers Global and Chambers Europe recommend Ilyashev & Partners Law Firm as one of the top tier law firms in Ukraine in dispute resolution. According to the research "50 Leading Law Firms of Ukraine 2017" the in 2017 the Firm provided legal advice in 40% of major public litigations and arbitrations.
The Legal 500 is an independent research, the results of which serve the basis for recommending the law firms and individual lawyers on their merits only. For 29 years, The Legal 500 has been analysing the capabilities of law firms across the world, in over 100 jurisdictions. The research takes into account such factors as the strengths and strategy of the firm, the quality of the services rendered, the importance of projects delivered, customer feedbacks and the reputation of individual lawyers of the firm. .