News date: 2 February 2018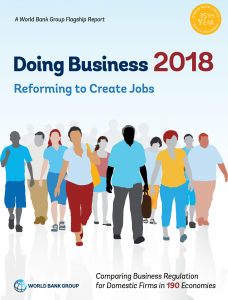 Lawyers Leonid Gilevich, Vadym Kizlenko and Stanislav Koptilin received the letters of acknowledgment for their participation in the preparation of reviews for the 15th edition in a series of the World Bank Group's leading annual report "Doing Business 2018: Reforming to Create Jobs".
Doing Business measures regulations affecting 11 areas of the life of a business. Ten of these areas were included in this year's ranking on the ease of doing business, namely: starting a business, dealing with construction permits, getting electricity, registering property, getting credit, protecting minority investors, paying taxes, trading across borders, enforcing contracts and resolving insolvency. Doing Business also measures the labor market regulation – the indicator, which is not included in this year's ranking.
The leading lawyers of Ilyashev & Partners Law Firm have been actively involved in conducting the Doing Business research for several years in a row.
The Doing Business project, launched in 2002, is dedicated to the activities of national small and medium-sized enterprises and is aimed at evaluation of the legislative instruments regulating their activities throughout their life cycle. The Doing Business research methodology and the typical cost analysis model are the only common tools used in different countries to assess the impact of the state's rule-making powers on business activities.