Second year in a row Ilyashev & Partners Law Firm headed the Chambers Europe rating in the field of dispute resolution in Ukraine, becoming the only Band 1 firm in this practice. According to the results of an international survey Chambers Europe 2019, published March 7, 2019 Ilyashev & Partners confirmed its ranking in international dispute resolution, employment, intellectual property and restructuring/insolvency.
Dispute Resolution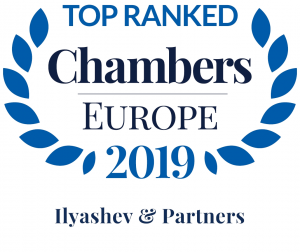 Dispute Resolution: Domestic in Ukraine (Band 1)
Leading lawyers: Roman Marchenko (Band 1) and Mikhail Ilyashev (Band 2)
Dispute Resolution: International in Ukraine (Band 2)
Leading lawyers: Roman Marchenko (Band 2)
White-Collar Crime (Recognized practitioner)
What the team is known for
Renowned for its strong presence in the domestic litigation scene, with outstanding capabilities in commercial dispute resolution. Particularly active in corporate, contractual and major debt recovery disputes, as well as assisting with matters against state authorities and banks. Also active in cross-border disputes and international arbitration, with particular experience in commercial arbitration mandates, and noted for its growing white-collar crime expertise. Noteworthy activity in shareholder and real estate disputes.
Strengths
The team is considered to be one of the leading practices in the market, with sources remarking: "They are one of the biggest teams in Ukraine and their dispute resolution practice is very strong."
Interviewees often praise the lawyers for their level of expertise, with one client noting: "They are result-oriented and they show very good expertise and engagement with the current trends in the market."
Notable practitioners 
Managing partner Mikhail Ilyashev is noted for his domestic litigation experience, regularly providing strategic advice on firm's key mandates. He regularly acts on debt recovery cases, and is also experienced in intellectual property disputes.
Sources describe Roman Marchenko as a "business-oriented and very balanced" practitioner, with one interviewee also pointing out that he "delivers high-quality products." He regularly acts as a litigator and arbitrator in international and domestic disputes.
Employment (Band 3)
Associates to watch: Leonid Gilevich
What the team is known for 
Noted for expertise in employment litigation. Also advises on compliance issues, data privacy and employee benefits, with further experience in management-level dismissals and employment agreements. Client roster features companies from the manufacturing, transportation, technology and media sectors.
 Strengths 
One source applauds the team for providing "smooth communication during the execution of the deals."
 Notable practitioners 
Leonid Gilevich assists with employment agreements, transfers and benefits as well as compliance issues. He is also adept at advising on labor disputes. "He is rapid in providing feedback and highly experienced," reports one client.
Intellectual Property (Band 3)
Leading lawyers: Irina Kirichenko (Band 3)
Up and Coming: Mariia Koval
What the team is known for 
Compact team, best known for acting on contentious cases, advising clients from Russia and Austria, as well as domestic companies and maintaining notably strong expertise in the pharmaceutical sector. Active in patent and trade mark litigation and registration. Also handles issues concerning counterfeiting and illegally diverted medicines.
Strengths 
A client describes the team as one which is "very client-focused, commercially minded and gets things done," adding: "We are satisfied with the team's responsiveness, quick understanding of our requests and needs, promptness in delivering results and excellent interpersonal contacts."
Another source emphasises the team's results-focused approach, observing: "It's typical for them to find the best solutions to concrete problems – and they provide separate, original solutions for each case."
Notable practitioners 
Irina Kirichenko is noted for her regulatory and litigation experience, particularly in the area of life sciences. She regularly advises major pharmaceutical companies on the protection of trade marks and patents. One client describes her as "analytical, dedicated and extremely professional in the way she treats a matter," while another finds her to be "as hard-working and client-oriented as if our problem were her problem."
Mariia Koval is highlighted for litigation and prosecution matters including damages, registration and invalidation. She handles the full range of IP rights including copyright, trade marks, domain names and design protection. She represented Ascania in three court cases regarding the invalidation of patents and for the recovery of damages for infringement. One client describes her as "a knowledgeable, experienced and responsible lawyer who strives to provide her clients with an exceptional and timely service."
Restructuring/Insolvency (Band 3) 
Leading lawyers: Roman Marchenko (Band 3)
What the team is known for 
Recognised for its strong insolvency practice, supported by a top litigation team and active on some of the market's biggest insolvency and bankruptcy-related mandates. Also has experience of providing assistance with debt restructuring and acts for local and international banks and distressed companies with regard to liabilities and disputes concerning insolvency procedures.
Notable practitioners 
Roman Marchenko is particularly renowned for his strong litigation skills and often assists debtor companies from a range of sectors on a variety of bankruptcy issues, including creditor claims and debt recovery issues.
Ilyashev & Partners was noted for its practice in Tax and Competition/Antitrust. Oleksandr Fefelov, Head of Antitrust and Competition Practice, is recognized by Chambers Europe 2018 in Competition/Antitrust (Band 4).
Chambers Europe is a special legal guide that has been published by Chambers & Partners since 1999. The directory researches the legal profession, identifying the leading lawyers and law firms through interviews with thousands of lawyers and their clients. The directory has got a good reputation based on the independence and objectivity research. Chambers Europe provides in-depth analysis of the legal markets in 52 jurisdictions.