Date of publication: 14 July 2015
Maksym Kopeychykov, Partner
Source: Interfax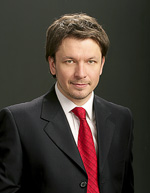 If approved, amendments to the Tax Code initiated by the Ministry of Finances will simplify application of tax provisions by agricultural producers a partner of Ilyashev & Partners Law Firm, Maksym Kopeychykov, believes.
Making a comment of the draft project of amendments to the Tax Code published at the official web-site of the Ministry of Finances, he pointed out that the Ministry is offering to introduce clarifications essentially influencing the procedure of tax accounting of the producers of agricultural products who use the general system of taxation and have chosen the annual reporting period having duration from 01 July of the current year till 30 June of the following fiscal year.
"Current version of the Tax Code of Ukraine does not contain a special provision for defining a tax object with consideration for specific nature of filing reporting forms by the mentioned category of tax payers. Open remains the question of how the agricultural producers may define the tax object while using a "non-standard" reporting period, – as he informed Interfax-Ukraine".
Maksym Kopeychykov indicated that according to the draft law, in particular, the declaration for the period from July 01, 2015 till June 30, 2016 will reflect the financial result of 2015 decreased by the financial result of the first six months of 2015 (which is not related to the mentioned reporting period) and increased by the financial result of the first six months of 2016.
"The draft law offers to the agricultural producers to submit the profit tax declaration together with the financial statement for the first six months of the current reporting year, for the current reporting year and for the first six months of the following reporting year. Suchwise the agricultural producers will get a possibility to account for financial results relevant to the particular period in the declaration filed in relation to such particular period. These are the positive changes clarifying the procedure of how the agricultural producers using a special reporting period must define their declaration figures", – the lawyer highlighted.