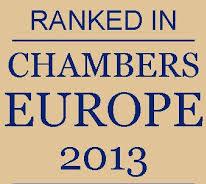 Ilyashev & Partners Law Firm is recommended as one of the best law firms in Ukraine in dispute resolution, intellectual property, energy and natural resources, tax. Managing partner Mikhail Ilyashev and senior partner Roman Marchenko were named the best lawyers for dispute resolution in Ukraine. Рartner Maksym Kopeychykov was mentioned for real estate, and Irina Kirichenko as an expert in intellectual property.
The firm was noted as having "an irreproachable reputation, an unfailing professional approach and the highest standards of work", which "draw many companies and individuals to Ilyashev & Partners' practice. The firm's clients range from international corporations to local government bodies".
Chambers Europe is a special legal guide that has been published by Chambers & Partners since 1999. The directory researches the legal profession in Europe, identifying the leading lawyers and law firms through interviews with thousands of lawyers and their clients. The directory has got a good reputation based on the independence and objectivity research. The Europe guide provides in-depth analysis of the legal markets in 51 jurisdictions.