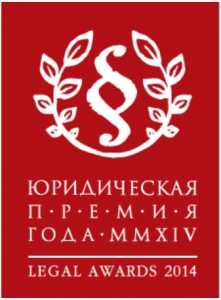 Ilyashev & Partners Law Firm is the best in the category "Law Firm of the Year in Corporate Law", and Senior Partner Roman Marchenko is honored as "The Best Trial Lawyer". Ilyashev & Partners is also one of five nominees for "Law Firm of the Year for Work with Distressed Assets" and among top three in the category "Law Firm of the Year".
In detail: On May 23, 2014, the VIII annual ceremony "Legal Award of the Year" was held in Kyiv Premier Palace Hotel. The event, which has really become outstanding for the Ukrainian legal market, welcomed a record number of both nominees and legal practitioners, who came to support them and spend a pleasant evening.
"Legal Awards 2014" were given in 29 categories. The best law firms practicing in energy, media and telecommunications, agriculture were marked for the first time. The list of "branch" awards will be further extended. However, this year the category "Best Legal Departments" was removed from the list as Yurydychna Practyka celebrates in-house lawyers in "The 50 Leading Legal Departments of Ukraine". This year "The Best Legal Departments" will be awarded in "personal" categories.
Antitrust boutique Droit was recognized as a successful start-up, and AVER LEX became the fastest-growing law firm. DLA Piper Ukraine won in the category "Foreign Law Firm of the Year". Asters took the lead in the number of nominations retaining the title of "Law Firm of the Year" and winning nominations "The Best Lawyer in Competition Law" and "Law Firm of the Year in Energy Sector".
Sayenko Kharenko, AstapovLawyers, Ilyashev & Partners and Arzinger became the winners in two nominations.