News date: 26 February 2015
On February 25, the LEGAL BANKING FORUM 2015 organized by the Yurydychna Praktyka newspaper with the support of the Independent Association of Ukrainian Banks was held at the Kyiv Premier Palace Hotel.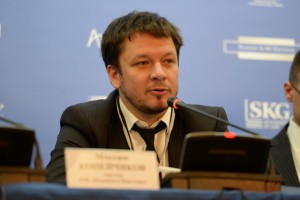 Maksym Kopeychykov, attorney at law, Partner at Ilyashev & Partners Law Firm, made a report on "Additional Capitalization of Financial Institutions", in which he focused on the objectives and the main ways of additional capitalization of banks, and the status of statutory regulation of this issue.
"Correctness of the legal framework created by the NBU and other state agencies and objectivity of law enforcement during banking supervision, in particular, over observation of standards of regulatory capital and capitalization of financial institutions are vital market requirements, compliance with which will strengthen the banking system and increase confidence in the regulator", Kopeychykov said.
The LEGAL BANKING FORUM became a communication platform for maintaining dialogue between the government regulator and the leading players in the banking market, as well as consultants, for finding the best ways to reform the banking system of Ukraine.
During the event, the questions essential for the banks and their clients, such as additional capitalization, liability of owners, operational aspects of work with troubled banks and distressed assets, including the current practice of credit disputes resolution and bankruptcy practice trends, were discussed.
The forum was attended by the representatives of public authorities, judges, international experts, representatives of non-governmental organizations, board chairmen and heads of legal departments of the leading banks, partners of Ukrainian and international law firms.