#Dispute Resolution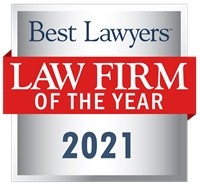 Further to the research carried out by international rating Best Lawyers 2021 Ilyashev & Partners was ranked as the Ukrainian "Law Firm of the Year" in Litigation. The results of the research were published on 09 June 2020.
Best Lawyers awards the title "Law Firm of the Year" only to one leading legal firm for its accomplishments in a certain field of legal practice. The award winner is determined on the basis of a number of factors, including: opinions provided by the lawyers of other legal firms, the coverage and scope of the firm's activities in the legal sphere, firm's reputation etc.
11 lawyers and attorneys out of 16 legal practices of Ilyashev & Partners received personal recommendations of Best Lawyers 2021.
Best Lawyers is the oldest time-proof international ranking of lawyers and companies commanding respect among legal consultants and their clients. Best Lawyers firstly conducted its market research in the USA in 1983. Today, the ranking extends to more than 70 countries.