News date: 20 October 2015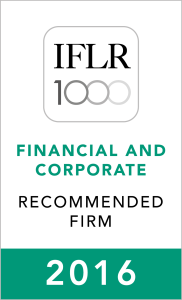 International rating IFLR1000 Financial and Corporate 2016 recommends Ilyashev & Partners in M&A, banking & finance.
The IFLR1000 is the guide to the world's leading financial and corporate law firms and lawyers. The first rankings were published in 1990 and currently over 120 jurisdictions worldwide are under research. IFLR 1000 provides annual law firm performance, including practice area, sector and geographical strengths, client and peer feedback and examples of transactional work. Published by Euromoney Legal Media Group.
IFLR 1000 Financial and Corporate is an annual review conducted by telephone interviews with in-house corporate lawyers of companies and partners working in private practice, analysis of information materials and third-party sources (including the journal International Financial Law Review).