News date: 15 February 2018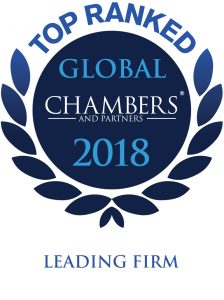 Ilyashev & Partners is highly recognized in Dispute Resolution (Band 1) by recently released Chambers Global 2018 research for Ukraine.
In addition, the firm's partners achieved individual recognition and received numerous positive feedbacks from clients.
Senior partner Roman Marchenko is deemed by sources to be a "very well-known and experienced litigator" who is "a real asset in challenging cases". He is noted for his broad court litigation practice and also has significant experience in arbitration cases. One client highlights his "remarkable analytical skills combined with commercial insight". He represented SE Antonov in a number of local and international disputes.
Managing partner Mikhail Ilyashev has a long-standing reputation in the Ukrainian disputes arena, with one source referring to him as "someone you can rely on". He has an extensive track record in litigation mandates, recently advising FSC More in a USD240 million ECHR case arising out of the nationalisation of the company's assets in Crimea by the Russian Federation. One client states: "Mikhail developed a unique winning strategy for every case".
Mikhail Ilyashev first ranked in Chambers Global in 2006, and Roman Marchenko – in 2011.
For many years in a row Mikhail Ilyashev and Roman Marchenko top the dispute resolution ratings in Ukraine. Partners of Ilyashev & Partners take the lead in the lists of the best litigators, compiled by the Ukrainian annual researches "50 Leading Law Firms of Ukraine", "Ukrainian Law Firms. A Handbook for Foreign Clients", "Client's Сhoice" and "Top-100 Best Lawyers of Ukraine". Mikhail Ilyashev is a two-time winner of the Legal Awards in nomination "Best Litigation Lawyer" (2012 and 2017). Roman Marchenko is the winner of Legal Awards as "Best Lawyer in Arbitration" and "Best Litigation Lawyer" (2014 and 2016).
Over the course of many years Chambers Global, Chambers Europe, the Legal 500 – EMEA recommend Ilyashev & Partners Law Firm as one of the top tier law firms in Ukraine in dispute resolution. According to the research "50 Leading Law Firms of Ukraine 2017" the in 2017 the Firm provided legal advice in 40% of major public litigations and arbitrations.
Chambers Global is the leading international legal directory and was established in 1990 and now covers over 190 jurisdictions throughout the world.