According to the results of a reputable international survey Chambers Europe 2018, Ilyashev & Partners is recognized as the only Band 1 law firm in Ukraine for Dispute resolution (Litigation). The firm confirmed its ranking becoming Band 2 law firm in Arbitration and Band 3 in the practices: employment, intellectual property and restructuring/insolvency.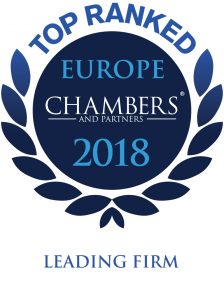 Dispute Resolution
Leading lawyers: Roman Marchenko (Band 1) and Mikhail Ilyashev (Band 2)
Leading lawyers: Roman Marchenko (Band 2)
White-Collar Crime (Other noted)
What the team is known for
Renowned for its strong presence in the domestic litigation scene, with outstanding capabilities in commercial dispute resolution. Particularly active in corporate, contractual and major debt recovery disputes, as well as assisting with matters against state authorities and banks. Also active in cross-border disputes and international arbitration, with particular experience in commercial arbitration mandates, and noted for its growing white-collar crime expertise. Clientele includes prominent domestic and regional players from a range of industry sectors, including financial services and insurance, energy, agriculture and manufacturing.
 Strengths
The department is praised as a "specialised team" which is "brilliant in dispute resolution." Clients also highlight the department's "very business-oriented and tailored approach," as well as its "expertise in a lot of fields."
Sources praise the team's client service, emphasising its "responsiveness and smooth communication" and describing its lawyers as "very quick" and "easy to work with."
Notable practitioners 
Roman Marchenko is deemed by sources to be a "very well-known and experienced litigator" who is "a real asset in challenging cases." He is noted for his broad court litigation practice and also has significant experience in arbitration cases. One client highlights his "remarkable analytical skills combined with commercial insight." He represented SE Antonov in a number of local and international disputes.
Managing partner Mikhail Ilyashev has a long-standing reputation in the Ukrainian disputes arena, with one source referring to him as "someone you can rely on." He has an extensive track record in litigation mandates, recently advising FSC More in a USD240 million ECHR case arising out of the nationalisation of the company's assets in Crimea by the Russian Federation. One client states: "Mikhail developed a unique winning strategy for every case."
Associates to watch: Leonid Gilevich
What the team is known for 
Noted for its expertise in employment litigation. Also handles general labor issues, in addition to employment matters relating to M&A. Recent mandates include management-level dismissals and advising on employment agreements.
 Strengths 
Clients value that the lawyers "know our business inside out" and add that "they are very reliable."
 Notable practitioners 
Leonid Gilevich advises on a broad range of employment matters and recently assisted Plant 410 CA with a number of employment disputes with former employees. One client highlights his "great service," adding that he is "very knowledgeable."
Intellectual Property (Band 3)
Leading lawyers: Irina Kirichenko (Band 3)
What the team is known for 
Compact team best known for acting on contentious cases, advising clients from Russia and Austria, as well as domestic companies. Maintains strong expertise in the pharmaceutical sector. Active in patent and trade mark litigation and registration. Also provides advisory services.
Strengths 
Sources appreciate the pragmatism of the team's advice, with one saying: "They have the flexibility to find non-standard and effective ways to solve each case, and they have a team of very specific specialists."
Notable practitioners 
Irina Kirichenko focuses her practice on the pharmaceutical sector. Clients appreciate her tailored approach to problem solving, in both contentious and regulatory matters. One interviewee reports: "She has an open-minded and creative approach to finding the best solutions for each concrete case."
Restructuring/Insolvency (Band 3)
Leading lawyers: Roman Marchenko (Band 3)
What the team is known for 
Recognised for its strong insolvency practice, supported by a top litigation team. Active on some of the market's biggest insolvency and bankruptcy-related mandates and also has experience of providing assistance with debt restructuring. Clientele includes local and international banks, as well as companies.
 Strengths 
The lawyers win acclaim for client service, with one client reporting: "They are very responsive and practical," while another source notes their efficiency.
Sources also state: "They have very good experience in bankruptcy litigation."
Notable practitioners 
Roman Marchenko is recognised as a top dispute resolution lawyer who represents financial institutions and companies in some of Ukraine's biggest insolvency-related mandates. He is described as "down-to-earth and to the point." He recently advised Sumykhimprom on its USD165 million bankruptcy proceedings.
Ilyashev & Partners was noted for its practice in Tax and Competition/Antitrust. Oleksandr Fefelov, Head of Antitrust and Competition Practice, is recognized by Chambers Europe 2018 in Competition/Antitrust (Band 4).
Chambers Europe is a special legal guide that has been published by Chambers & Partners since 1999. The directory researches the legal profession, identifying the leading lawyers and law firms through interviews with thousands of lawyers and their clients. The directory has got a good reputation based on the independence and objectivity research. Chambers Europe provides in-depth analysis of the legal markets in 52 jurisdictions.