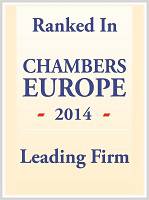 According to the results of the Chambers Europe 2014 survey Ilyashev & Partners is recommended as one of the best law firms in Ukraine in dispute resolution, employment, energy and natural resources, intellectual property and tax.
Dispute Resolution
What the team is known for Best known for its work in litigation, in which it frequently represents big-name international banks, but also offers a substantial arbitration practice.
Quotes from clients "One of the leading litigation law firms"
Work highlights Represented Swisspan and Interplit Nadvyrna in a dispute against the Antimonopoly Committee of Ukraine.
Notable practitioners
Roman Marchenko is active in both litigation and arbitration and is praised for his "quick delivery." Other sources say he is "extremely reliable."
Mikhail Ilyashev is an important leading figure for the practice as well as a respected litigator. Commentators say he is "goal-oriented" and highly experienced.
Significant clients Eli Lilly, FSC More, Nadra Bank, ProCredit Bank.
Employment
What the team is known for Strong reputation for litigious employment cases. Acts for clients on labor contracts, employee benefits, work permits and lay-offs. A popular choice as local counsel for several international law firms.
Quotes from clients "The lawyers know our business and the firm represents excellent value for money. It has a portfolio of deals and disputes behind it, meaning that its experience is broad and a great benefit to us"
Work highlights Assisting Czech Airlines with advice on numerous employment matters. Representing SE Antonov in court proceedings with some of its former employees.
Notable practitioners
Mikhail Ilyashev heads the department and is the key contact.
Significant clients METRO Cash & Carry, Nadra Bank, National Credit Bank, ProCredit Bank, The World Bank.
Energy & Natural Resources
What the team is known for Represents oil and gas, mining and renewables clients in diverse matters, such as competition clearance and energy and extraction projects. Recommended for energy litigation due to its well-known strength in dispute resolution.
Quotes from clients "A well-regarded firm with energy as one of its key areas"
Work highlights Represented Ukrgaz-Energo in disputes with the state authorities, including the Ministry of Oil and Energy, Ministry of Finance and Ministry of Justice.
Notable practitioners
Mikhail Ilyashev and Roman Marchenko are the key contacts for this practice.
Significant clients AES Kyivoblenergo and Rivnooblenergo, ArcelorMittal Kryviy Rih, Black Iron, Global Carbon, Holtec International.
Intellectual Property
What the team is known for Well known for IP disputes and M&A-related mandates. Involved in a number of high-profile pharmaceutical transactions as well as being active in licensing, IP audits, and patent and trade mark filings.
Work highlights Representing Megainpharm in the protection of IP rights. Represented Nycomed in litigation regarding trade marks.
Notable practitioners Irina Kirichenko is an experienced litigator who is most active in the pharmaceutical industry. She is a registered patent attorney.
Significant clients Mitek, S.Oliver, Eli Lilly, Lundbeck.
Tax
What the team is known for Ilyashev is one of the top litigation firms in the country, and the majority of its tax work is contentious.
Quotes from clients "Creative, stable, client-oriented"
Work highlights Represented METRO Cash & Carry in a number of disputes with the tax authorities.
Notable practitioners
Maksym Kopeychykov heads the team and is the key point of contact.
Chambers Europe is a special legal guide that has been published by Chambers & Partners since 1999. The directory researches the legal profession in Europe, identifying the leading lawyers and law firms through interviews with thousands of lawyers and their clients. The directory has got a good reputation based on the independence and objectivity research. The Europe guide provides in-depth analysis of the legal markets in 51 jurisdictions.