Managing a law firm
13.02.2014
Ilyashev & Partners' Senior Partner Roman Marchenko
Source: The Yurydychna Praktyka
– Did the management model change for throughout the life of your company?
– Ilyashev & Partners was originally founded by me and Mikhail Ilyashev. The third partner, Maksym Kopeychykov, joined us in 2001, which, of course, affected our management model. At some point we realized that the partners will have to surrender a part of their management functions. We appointed a managing director and a number of administrative executives such as the CFO, HR and PR Directors, although the overall management has remained with the partners.
However, changes to our management model were evolutionary rather than revolutionary since they were due to the increased number of employees. Today, with a team of 70, Ilyashev & Partners is a large firm requiring appropriate administration and control. That's why we gave up the jack-of-all-trades strategy both for lawyers and the administrative staff.
– Who is involved in strategic decision-making?
– Strategic decision making remains the remit of the partners. We might invite administrative staff to join the discussion if necessary, such as the Director of Business Development or the heads of our Kharkiv and Dnipropetrovsk offices where regional practice is concerned.
– Who is responsible for implementing decisions?
– We all understand that the ultimate financial liability resides with the partners themselves – right out of their own purses. However, our system of bonuses and incentives for attracting new clients, working overtime and completing projects ahead of schedule is an effective motivation to deliver greater value for all our employees regardless of their rank or position. On the other hand, we are still young, democratic and not shackled by convention: if someone does not agree with the decision of the partners, he is always welcome to make his own point. If it makes sense, the decision is likely to be reviewed. But this, of course, is up to the partners.
– What is the role of regional offices in firm's organization chart?
– Heads of our regional offices in Kharkiv and Dnipropetrovsk have a fairly wide discretion in local matters, although they are not partners of the firm. Their status is equivalent to the positions of senior associates in charge of particular practice. If a complex project is concerned, we may engage lawyers both from Kyiv and local offices. With today's level of media technology, working this way is easy.
– Is a partner more of a lawyer or a manager?
– Over time, partners of major law firms like ours are forced to embrace more management functions. But, like everything in the world, this is the matter of balance. Only a lawyer can sell legal services. This is an extremely personalized business that builds on client's trust to a specific lawyer – most often the partner of the law firm. Therefore, a partner of a law firm can never cease to be a lawyer. So here's the thing: a partner never dies as a lawyer, but – let's face it – there is much less time for purely legal work.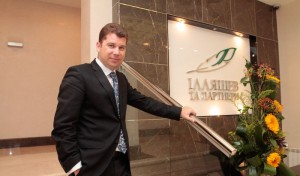 _______________________
By Oleksiy Nasadyuk
The Yurydychna Praktyka
pravo.ua